Featured Cutting Boards,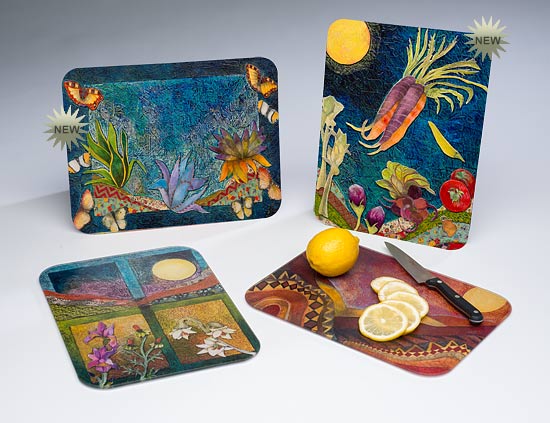 I've added two new and exciting designs to the cutting boards: Cosmic Vegetables and Magical Botanical 6, both are pictured in the top of the illustration to the left.
These tempered glass cutting boards feature my artwork and are offered in a 9x12 inch size for $38.00 plus shipping or a 12x16 inch size for $58 plus shipping. See order options at the bottom of the page.
My collage art pieces are a combination of water color, colored pencil and oil pastel on specialty papers and canvas. I am currently working on three collections: EARTHSCAPES, celebrating the six directions, ON COMMON GROUND, a collection of multicultural women, and SPIRIT ANIMALS. These Collections are interconected by legend, pattern, texture and color.
I am offerring these images in hand printed and crafted tempered glass. Each image is embedded in the glass under extreme pressure. I supervise, color correct and size each piece. They are functional as well as being decorative wall or window pieces and can be used as a cutting board or serving trivet.
Cosmic Vegetables
Magical Botanical 6
Earthscape 6
Magical Botanical 2
In The Spirit Of The Horse 2
Spiritually Connected
Elements of Spirit
In The Spirit Of The Horse
Mythical Garden
Checkered Cactus
Moon Over Flowers
On the Wind #2
Four Seasons #3
Aquatic Life
A Path With Heart
Four Seasons #1
Wolf Loyalty Leads To Courage
Earthscape #3
Bears Path
Mythical Cactus

Order Information:




Shipping in the continental USA is $6 to $18 depending on the quantity of cutting boards ordered. Please contact me for pricing if you need quantities not offered here or shipping outside of the continental USA.




Order Safely through PayPal, No Account Needed!